New Bariatric Institute Opens on Pennington Biomedical Campus
Facility's New Name Reflects One-of-a-Kind Approach to Care, Treatment and More
For more information, contact Ted Griggs, ted.griggs@pbrc.edu, 225-288-8840
March 18, 2022
BATON ROUGE, Louisiana –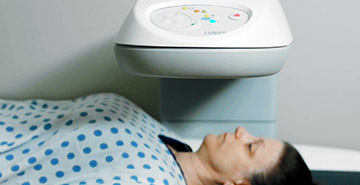 The nation's first integrated, interdisciplinary metabolic treatment center held a ribbon-cutting ceremony Friday at Pennington Biomedical to celebrate its new clinic and announce its new name: the Bariatric & Metabolic Institute is now the Metamor™ Institute.
Pennington Biomedical Research Center, Our Lady of the Lake Regional Medical Center, Louisiana Economic Development (LED), LSU Health New Orleans and the Office of the Governor joined forces in 2019 to establish the program.
"Metamor is our obesity 'moonshot,'" said Pennington Biomedical Research Center Executive Director John Kirwan, Ph.D. "We've united researchers, scientists, nutrition experts, psychologists, exercise physiologists and more under one roof so as to transform the understanding and treatment of obesity. Metamor leverages Pennington Biomedical's more than 30 years of research into weight-loss treatments and reducing obesity rates in children and adults."
Obesity is a chronic disease that affects roughly 40 percent of the residents of Louisiana and the United States. Obesity costs the state $13 billion each year in direct medical expenses and lost workdays. Nationally, the cost is $1.4 trillion, or 6.8 percent of gross domestic product.
"The obesity epidemic is a public health crisis that threatens the quality of life and economic health of Louisiana and its residents," Gov. John Bel Edwards said. "Metamor's bold response to that challenge will improve the health of our residents, reduce Louisiana's collective health care burden and expand the state's fast-growing life sciences sector. Pennington's groundbreaking research has been a source of pride for Louisiana for more than 30 years, and this new facility ensures it will remain on the cutting edge of bioscience innovation for years to come."
The combined facilities at Pennington Biomedical and Our Lady of the Lake are expected to contribute more than $100 million in economic returns, according to LSU economists, through a combination of research grant revenue, destination medical care, new surgical procedures, technology development and lowering the state's health care burden.
"Our Lady of the Lake and Pennington have long partnered to impact the overall health of our community," said Scott Wester, Franciscan Missionaries of Our Lady Health System EVP of Advocacy and Strategic Partnerships. "The collaboration on this initiative demonstrates that we can build destination programs right here in Baton Rouge, Louisiana. We can care for patients here at home and attract those from abroad."
Metamor, originally known as the Bariatric and Metabolic Institute, was announced in October 2019. A public-private partnership of Pennington Biomedical, Pennington Biomedical Research Foundation, Our Lady of the Lake, LSU Health New Orleans, Louisiana Economic Development and the Office of the Governor of Louisiana funded the project and recruited Dr. Schauer to head the institute. At the time, Dr. Schauer was Professor of Surgery at the Cleveland Clinic Lerner College of Medicine, and Director of the Cleveland Clinic Bariatric and Metabolic Institute (BMI). Dr. Schauer is one of the first surgeons to perform laparoscopic gastric bypass surgery. He has performed more than 8,000 operations for severe obesity and is the go-to surgeon for many of the most difficult bariatric surgery cases in the world.
"We created a new brand for the institute because the facility, the services, and the community outreach and advocacy we offer are unique. We wanted a name that reflects that," Metamor Director Dr. Philip Schauer said. "Metamor stands for the metamorphosis our patients experience, from chronic illness to health. The name also combines metabolic and more.
"The "amor" part of the name also suggests the compassion and support patients can expect at the institute," he added. "Our patients often thank us for giving them back their lives. But we don't look at it that way. Our patients already have full lives when they come to us. We just help them enjoy their lives more."
The new state-of-the art facility includes roughly 10,000 square feet of space, with 12 exam rooms and 10 consultation rooms on the first floor. The work involved demolishing existing space and adding customized exam and consultation rooms. The $2 million project took around 10 months to complete.
The project includes an outpatient clinic on the campus of Pennington Biomedical as well as surgical and office facilities at Our Lady of the Lake. Officials expect the facilities will be a key asset within the Baton Rouge Health District, which encompasses major health care employers spanning Interstate 10 and Perkins Road to the north and south, and Bluebonnet Boulevard and Essen Lane on the east and west.
Metamor had more than 6,200 new patients in 2021, 50 percent more than anticipated, and performed 379 bariatric procedures. The institute achieved these numbers despite a global pandemic that largely cut off the flow of patients from across the region that the new program expected to generate.
The financial implications for the state are profound, and Metamor officials say they are confident the facility will become a destination for medical treatment for obesity. Market Data Forecast predicts the number of destination-medicine patients worldwide to increase by 25 percent per year, from an estimated $33 billion in 2021 to $78.2 billion in 2026.
"To have the Metamor Institute in Baton Rouge is incredible for this city and region," said Baton Rouge Area Chamber President and CEO Adam Knapp. "Pennington Biomedical is one of our most important economic assets that sets us apart, and Metamor takes it and Baton Rouge to another level. This institute is an anchor to the further development and growth of health care and life sciences in the Baton Rouge Area economy. As they put the latest science into practice, they are also poised to improve the health of Louisiana citizens, all Americans, and the international population beyond our borders. It's that big of a deal."
###
About the Pennington Biomedical Research Center
The Pennington Biomedical Research Center is at the forefront of medical discovery as it relates to understanding the triggers of obesity, diabetes, cardiovascular disease, cancer and dementia. The Center architected the "Obecity, USA" awareness and advocacy campaign to help solve the obesity epidemic by 2040. The Center conducts basic, clinical, and population research, and is affiliated with Louisiana State University. The research enterprise at Pennington Biomedical includes over 480 employees within a network of 40 clinics and research laboratories, and 13 highly specialized core service facilities. Its scientists and physician/scientists are supported by research trainees, lab technicians, nurses, dietitians, and other support personnel. Pennington Biomedical is located in state-of-the-art research facilities on a 222-acre campus in Baton Rouge, Louisiana. For more information, see https://www.pbrc.edu.