Pennington Biomedical's Senior Black American Health Fair Returns March 25
March 9, 2023
For more information, contact Ernie Ballard, ernie.ballard@pbrc.edu, 225-263-2677
Free event to feature health screenings, fitness activities and food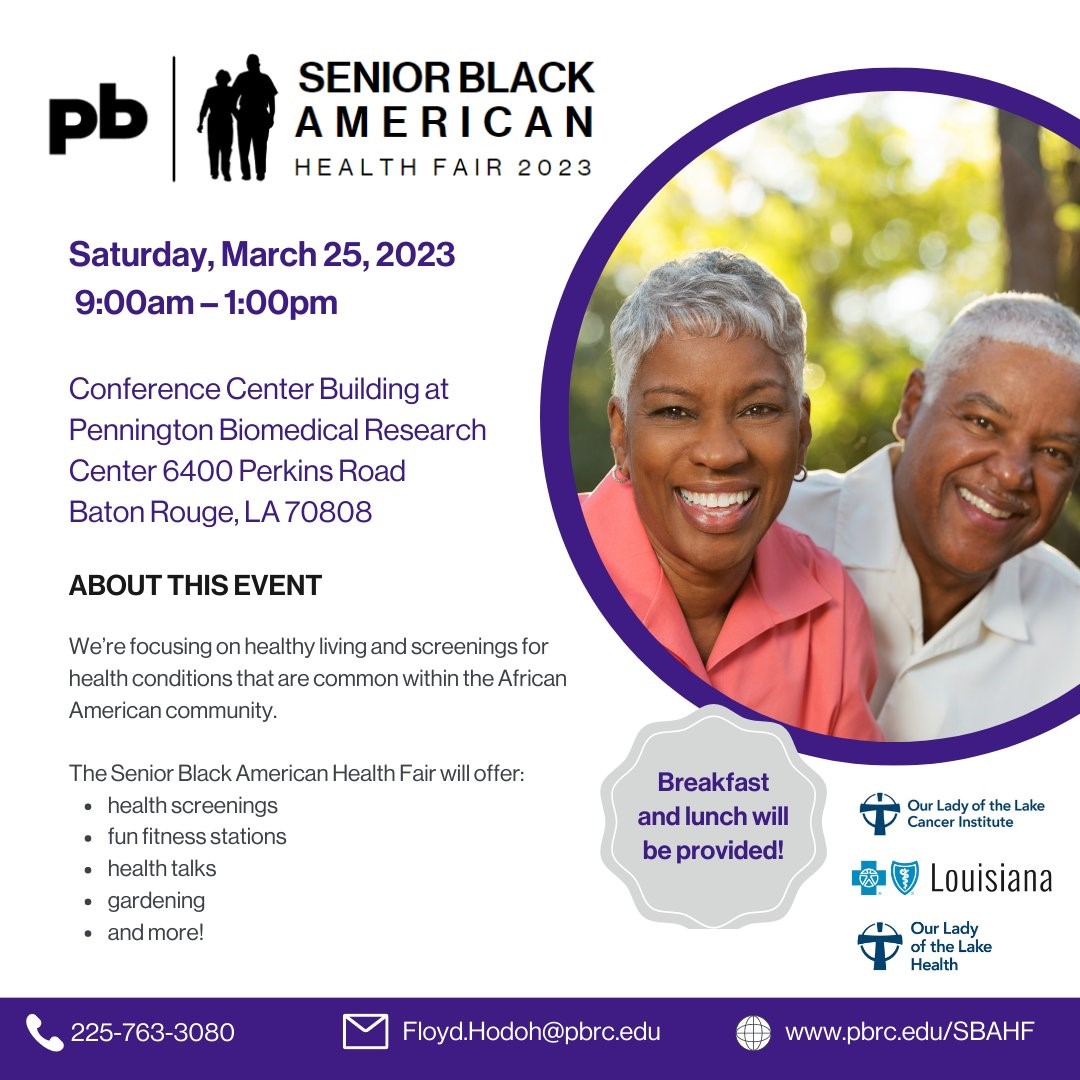 BATON ROUGE – The Senior Black American Health Fair returns to Pennington Biomedical for a second year on Saturday, March 25, from 9 a.m. to 1 p.m. Held at the C.B. Pennington Jr. Conference Center at 6400 Perkins Road, the fair will offer health screenings, educational discussions, exhibitors and food. Also, participants are asked to arrive dressed in activewear for fun fitness stations, chair exercises, gardening and virtual reality experiences.
Sponsored by Our Lady of the Lake Regional Medical Center, Our Lady of the Lake Cancer Institute, Blue Cross and Blue Shield Louisiana and Aetna, the event will provide valuable information directly relating to the health, nutrition and wellness of African American seniors. Pre-registration is recommended for the event. For additional details or to register, click here.
"From heart disease to dementia, the African American community experiences higher rates of chronic diseases when compared to many other ethnic groups. This health fair is designed to give something back and to demonstrate that Pennington Biomedical cares. We are at the forefront of research in pursuit of resolving health disparities, and time and again we see the benefits of exercise and a heathy diet. At the fair, guests can learn more about their health status, talk to experts and participate in fun activities," said Dr. Robert L. Newton Jr., Associate Professor and Director of Pennington Biomedical's Physical Activity and Ethnic Minority Health Lab.
Sharon Weston Broome, Mayor-President of the City of Baton Rouge and East Baton Rouge Parish, encouraged people to come out to the health fair and to take advantage the free screenings, talks by experts, vendors and fun activities planned.
"Pennington Biomedical has been doing life-changing research in our community since the 1980s, and under the leadership of Executive Director Dr. John Kirwan, scientists here in Baton Rouge continue to make breakthroughs in research, reducing the impact of these health issues and focusing on prevention. This important research targets obesity, diabetes, and hypertension, which disproportionately affects our community," she said.
Experts will provide Q&A sessions about dementia, fall prevention, cancer and cognitive impairment. The speakers include:
Dr. Owen Carmichael, Director of Biomedical Imaging, Pennington Biomedical Research Center
Taylor Murphy, PA, Prostate Cancer, Our Lady of the Lake Regional Medical Center
Dr. Pretty Singh, Family Medicine, Our Lady of the Lake Regional Medical Center
Dr. Asif Talukder, Colorectal Surgeon, Our Lady of the Lake Regional Medical Center
"We are looking forward to welcoming everyone to our center for the second annual Senior Black American Health Fair," said Dr. John Kirwan, Pennington Biomedical Executive Director. "Part of our mission at Pennington Biomedical is outreach into the community and providing these opportunities for people to come here to access health screenings and other vital information is something we take great pride in. We are also thankful to all of our partners and sponsors who have contributed to helping us put on this great event."
About the Pennington Biomedical Research Center
The Pennington Biomedical Research Center is at the forefront of medical discovery as it relates to understanding the triggers of obesity, diabetes, cardiovascular disease, cancer and dementia. The Center architected the national "Obecity, USA" awareness and advocacy campaign to help solve the obesity epidemic by 2040. The Center conducts basic, clinical, and population research, and is affiliated with LSU.
The research enterprise at Pennington Biomedical includes over 480 employees within a network of 40 clinics and research laboratories, and 13 highly specialized core service facilities. Its scientists and physician/scientists are supported by research trainees, lab technicians, nurses, dietitians, and other support personnel. Pennington Biomedical a state-of-the-art research facility on a 222-acre campus in Baton Rouge.
For more information, see www.pbrc.edu.
Pennington Biomedical Research Center
6400 Perkins Road
Baton Rouge, LA 70808