Giving Children the Best Chance at a Healthy Life
July 6, 2023
Pennington Biomedical's Pediatric Obesity & Health Behavior Laboratory promotes physical activity through "exergaming" and wearable technologies
For more information, contact Ernie Ballard, ernie.ballard@pbrc.edu, 225-263-2677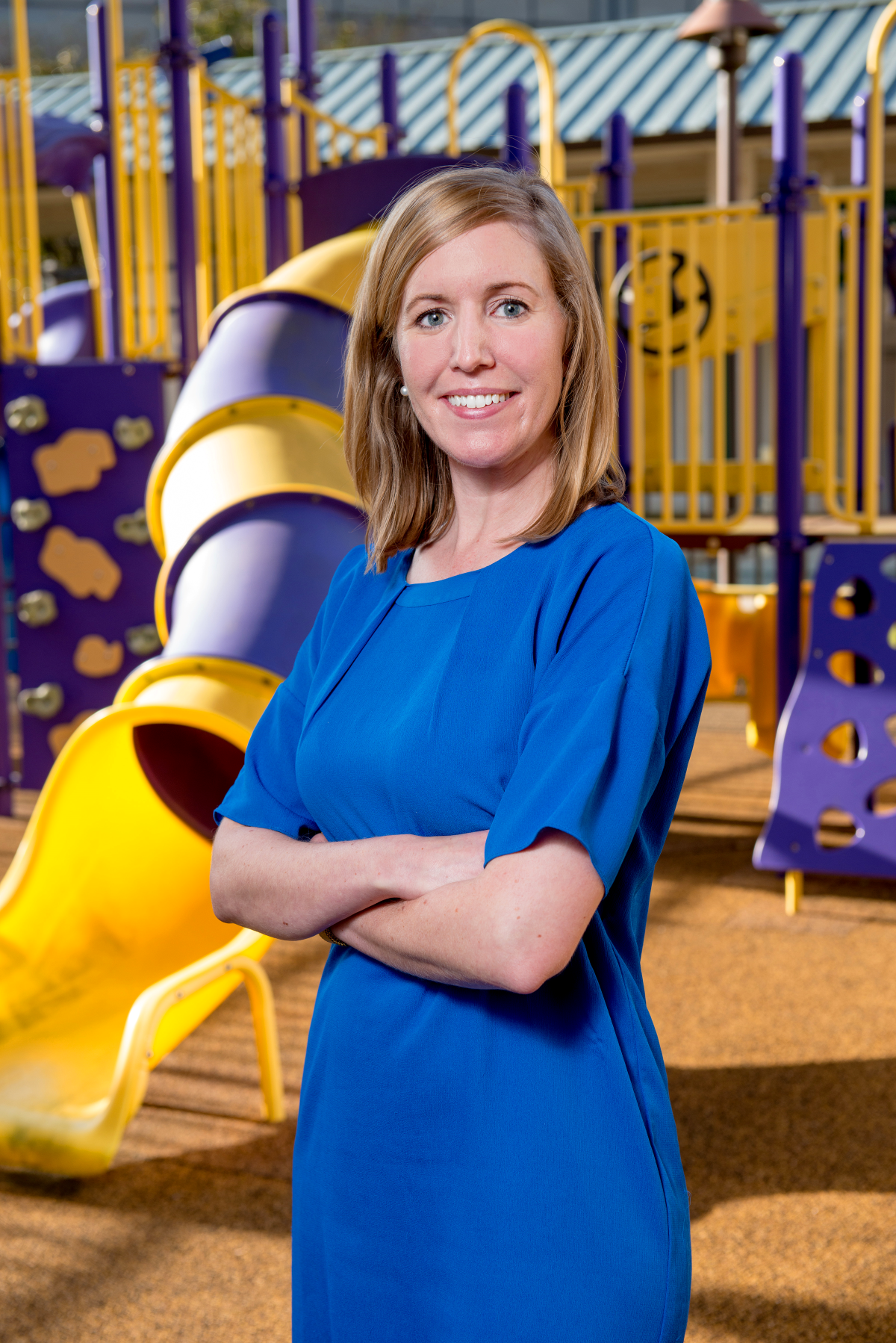 BATON ROUGE – One in five children have obesity in the U.S., and even more are considered overweight. Dr. Amanda Staiano, associate professor at Pennington Biomedical Research Center and director of the Pediatric Obesity and Health Behavior Laboratory, believes childhood obesity is at the top of the list for public health issues of this century because children with obesity are much more likely to develop heart disease, diabetes, asthma, sleep problems and other issues.
Dr. Staiano's background is in developmental psychology, and she studies how to make sure children are growing in a healthy way and in a healthy environment. One of the focuses of her research is on gaming. She says parents can't ignore screens, but instead should figure out how to use technology to help them. "Exergames" that are immersive, exciting and get families off the couch are a clever way to work up a sweat without realizing you're exercising.
"Through our research, we found these games can produce the intensity of exercise that can make some really important changes to kids' health," Dr. Staino said.
Another big challenge is the prevalence of fast-food restaurants versus grocery stores. Pennington Biomedical is working with different industries and sectors on how to get grocery stores into various communities and make it easier for parents to purchase healthier food. The staff also works with schools to have nutrition education and support physical education teachers.
Dr. Staiano encourages concerned parents to talk to their child's pediatrician or school nurse, evaluate the types of foods and drinks available in the home, practice smaller portion sizes and try not to use food as a reward for good behavior.
"At Pennington Biomedical, we take a whole child approach, and we are trying to get our science and our evidence into the hands of families and caregivers to give kids the best chance at a healthy life," Dr. Staiano said.
For more information, visit the Pediatric Obesity & Health Behavior Laboratory at https://labs.pbrc.edu/pediatric-obesity/.
About the Pennington Biomedical Research Center
The Pennington Biomedical Research Center is at the forefront of medical discovery as it relates to understanding the triggers of obesity, diabetes, cardiovascular disease, cancer and dementia. The Center architected the national "Obecity, USA" awareness and advocacy campaign to help solve the obesity epidemic by 2040. The Center conducts basic, clinical, and population research, and is affiliated with LSU.
The research enterprise at Pennington Biomedical includes over 480 employees within a network of 40 clinics and research laboratories, and 13 highly specialized core service facilities. Its scientists and physician/scientists are supported by research trainees, lab technicians, nurses, dietitians, and other support personnel. Pennington Biomedical a state-of-the-art research facility on a 222-acre campus in Baton Rouge.
For more information, see www.pbrc.edu.
Pennington Biomedical Research Center
6400 Perkins Road
Baton Rouge, LA 70808