Study Shows Physical Activity Prevents, Not Just Delays, Cancer Recurrence in Patients Previously Treated for Colon Cancer
March 21, 2023
For more information, contact Ernie Ballard, ernie.ballard@pbrc.edu, 225-263-2677
March is National Colorectal Cancer Awareness Month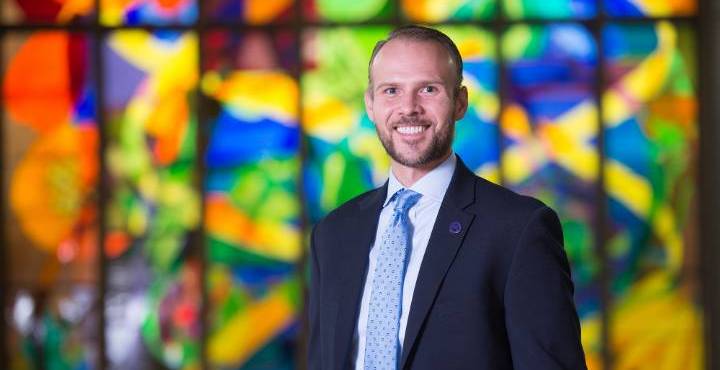 BATON ROUGE – Researchers, led by Pennington Biomedical Research Center's Dr. Justin Brown, have found that physical activity can prevent, and not just delay, cancer recurrence in patients previously treated for colon cancer.
"In this observational study of patients with stage III colon cancer, postoperative physical activity is associated with improved disease-free survival by lowering the recurrence rate within the first year of treatment, which translates into an overall survival benefit," the researchers concluded in an article published in the British Journal of Sports Medicine.
These findings could have an impact on clinical practice in the future by refining the understanding of how physical activity improves cancer survivorship in a manner relevant to tumor biology and cancer care delivery. This study may be particularly relevant to patients who seek to understand the optimal time to begin physical activity to reduce their cancer recurrence risk.
"With March being National Colorectal Cancer Awareness Month, the timing of these findings is especially relevant for so many people around the country, and the world, who have been treated for colon cancer in the past," said Brown, who serves as Director of the Cancer Metabolism Program at Pennington Biomedical. Brown's father died from metastatic colorectal cancer at age 48, which has fortified his lifelong commitment to conducting innovative research to help colorectal cancer survivors live longer and healthier lives.
Between June 2010 and November 2015, 1,696 patients from 654 academic and community oncology centers in the United States and Canada were enrolled in the prospective nested cohort study. Physical activity was calculated based on self-reporting during and after chemotherapy.
During the study, the rate of cancer recurrence in physically active patients never exceeded that of physically inactive patients, and the disease-free survival benefit of physical activity persisted for approximately one year after surgical resection, and the overall survival benefit of physical activity persisted for approximately three years after surgery.
Physical activity is known to be safe for cancer survivors and is recommended during chemotherapy. The researchers found that the benefits from being physically active on cancer recurrence is larger if the patient is active shortly after surgery. Trials have also shown that physical activity during chemotherapy improves quality of life and reduces fatigue. Long term benefits of physical activity also include a lower risk of cardiovascular disease.
"Pennington Biomedical, especially with researchers like Dr. Justin Brown, is helping lead the way for cancer and metabolic disease research for the betterment of those in Louisiana and beyond. Biomedical research, with a particular focus on cancer, is also one of the pillars of LSU President William F. Tate IV's Scholarship First Agenda," said Dr. John Kirwan, Pennington Biomedical Executive Director.
This research was supported by the National Cancer Institute of the National Institutes of Health, the Canadian Cancer Trials Group; the ECOG–ACRIN Cancer Research Group; the SWOG Cancer Research Group; and JCB. JAM is supported by the Douglas Gray Woodruff Chair fund, the Guo Shu Shi Fund, Anonymous Family Fund for Innovations in Colorectal Cancer and the George Stone Family Foundation.
For the full article, please visit https://bjsm.bmj.com/content/early/2023/03/05/bjsports-2022-106445.full.
About the Pennington Biomedical Research Center
The Pennington Biomedical Research Center is at the forefront of medical discovery as it relates to understanding the triggers of obesity, diabetes, cardiovascular disease, cancer and dementia. The Center architected the national "Obecity, USA" awareness and advocacy campaign to help solve the obesity epidemic by 2040. The Center conducts basic, clinical, and population research, and is affiliated with LSU.
The research enterprise at Pennington Biomedical includes over 480 employees within a network of 40 clinics and research laboratories, and 13 highly specialized core service facilities. Its scientists and physician/scientists are supported by research trainees, lab technicians, nurses, dietitians, and other support personnel. Pennington Biomedical a state-of-the-art research facility on a 222-acre campus in Baton Rouge.
For more information, see www.pbrc.edu.
Pennington Biomedical Research Center
6400 Perkins Road
Baton Rouge, LA 70808