Registration Opens for Pennington Biomedical's 2023 Men's Health Summit
July 28, 2023
Event to feature health screenings, fitness activities and free immunizations
For more information, contact Ernie Ballard, ernie.ballard@pbrc.edu, 225-263-2677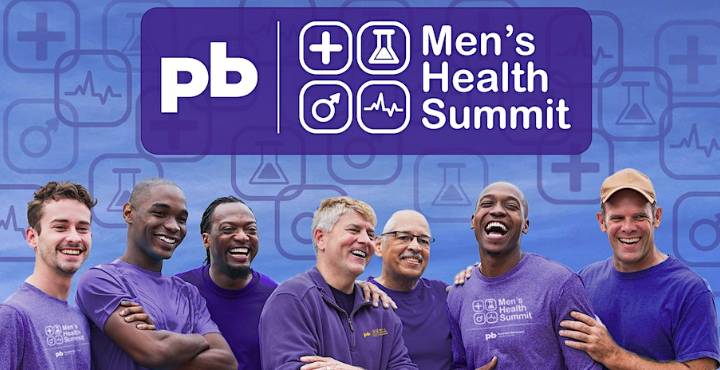 BATON ROUGE – The 2023 Men's Health Summit at Pennington Biomedical Research Center, presented by Baton Rouge General, returns Saturday, Aug. 26, from 7 a.m. to 1 p.m. Themed "Empowering Men to Live Healthier Lives," the free health and wellness event is open to all men over the age of 18 in the greater Baton Rouge area.
Held at the C.B. Pennington Jr. Conference Center on the Pennington Biomedical campus, located at 6400 Perkins Road, the event will feature free health screenings, educational sessions on men's health topics, immunizations and local exhibitors.
In addition to screenings and educational opportunities, the summit will also feature fitness activities, including a walk/run facilitated by Varsity Sports and a workout demonstration from TITLE Boxing Club. The event will also include giveaways, prizes and a keynote address from comedian and motivational speaker John Morgan. Interested participants can register for the event on the Pennington Biomedical website.
"Pennington Biomedical is pleased to once again bring the Men's Health Summit to the gentlemen of Baton Rouge," said Dr. John Kirwan, Pennington Biomedical Executive Director. "Sons, fathers, grandfathers, husbands, brothers – all men over the age of 18 are welcome to participate in this day-long summit to discover more about their health and the adjustments they can make to live healthier lives overall."
Pennington Biomedical has teamed up with leading partners in the Baton Rouge healthcare industry to bring the event together, including presenting sponsor Baton Rouge General and associate sponsors Our Lady of the Lake, Louisiana Men's Health Organization, Mary Bird Perkins Cancer Center, and Prescriptions to Geaux.
Featured educational programs at the summit will include "How weight affects all aspects of your health" by Drake Bellanger, MD; "Health Goals for Men – 50 and Beyond" by Vincent Shaw, MD; "Heart Attacks: Are you at Risk" by Lance LaMotte, MD, FACC; "Food & Supplements for Men: Optimizing Performance from Gym to Bedroom" by Jacob Mey, PhD, RD; and "Common Urological Problems" by Joey Fougerousse, MD.
"Pennington Biomedical is excited to bring valuable health screenings and important health information to the Baton Rouge community for free with the help of our generous sponsors," said John Lovelace, Assistant Director of Scientific Education at Pennington Biomedical. "More and more, men are discovering the need to take care of their health and stay informed about common issues. The presentations and events at the Men's Health Summit will help men in the Baton Rouge community explore ways to stay healthy."
About the Pennington Biomedical Research Center
The Pennington Biomedical Research Center is at the forefront of medical discovery as it relates to understanding the triggers of obesity, diabetes, cardiovascular disease, cancer and dementia. The Center architected the national "Obecity, USA" awareness and advocacy campaign to help solve the obesity epidemic by 2040. The Center conducts basic, clinical, and population research, and is affiliated with LSU.
The research enterprise at Pennington Biomedical includes over 480 employees within a network of 40 clinics and research laboratories, and 13 highly specialized core service facilities. Its scientists and physician/scientists are supported by research trainees, lab technicians, nurses, dietitians, and other support personnel. Pennington Biomedical a state-of-the-art research facility on a 222-acre campus in Baton Rouge.
For more information, see www.pbrc.edu.