Dr. Robert Newton Jr. Receives Google Health Equity Research Initiative Award
Feb. 13, 2023
For more information, contact Ernie Ballard, ernie.ballard@pbrc.edu, 225-263-2677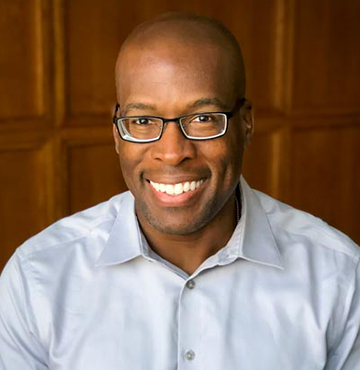 BATON ROUGE – Dr. Robert L. Newton, Jr., Associate Professor, head of the Physical Activity and Ethnic Minority Health Laboratory at Pennington Biomedical Research Center, has been selected to receive a Google Health Equity Research Initiative award, titled "Population and Public Health: Increasing physical activity in Black communities living in rural environments."
The Google Health Equity Research Initiative is a partnership among Google Health, Google Cloud Platform, Fitbit and Fitabase to advance health equity and mitigate health disparities.
Researchers at academic institutions and nonprofit research institutions were invited to submit health equity research proposals for an opportunity to receive awards for funding, Google and Fitbit wearable devices, Fitabase services, and/or Google Cloud Platform credits. The objective of the initiative is to advance health equity research and improve health outcomes for groups disproportionately impacted by health disparities and/or negative social and structural determinants of health.
"African Americans and rural residents have low levels of physical activity, which increase their risk of developing chronic disease," Dr. Newton said. "This study targets two health disparity populations: African Americans and individuals living in rural environments. With the funding from Google, we will be able to assess the effect of emerging technology to promote physical activity in these populations."
Dr. Newton is joined by 18 other researchers in receiving the 2023 awardees, and this work will impact LGBTQ+, Black, Latino and Alaskan Native communities, as well as marginalized birthing parents and marginalized groups experiencing intimate partner violence. Through this initiative, these researchers are looking at new ways to use wearable devices to mitigate health disparities, scale existing health equity research methods with technology, and apply data to accelerate health equity impact.
"We congratulate Dr. Newton on being selected for this award," said Dr. John Kirwan, Executive Director of Pennington Biomedical. "All of the 2023 awardees are doing great work in reaching important populations in our communities, and Dr. Newton's work is especially vital for Baton Rouge. We are excited for Robert and look forward to seeing the impact and outcomes that he will generate from this important award."
About the Pennington Biomedical Research Center
The Pennington Biomedical Research Center is at the forefront of medical discovery as it relates to understanding the triggers of obesity, diabetes, cardiovascular disease, cancer and dementia. The Center architected the national "Obecity, USA" awareness and advocacy campaign to help solve the obesity epidemic by 2040. The Center conducts basic, clinical, and population research, and is affiliated with LSU.
The research enterprise at Pennington Biomedical includes over 480 employees within a network of 40 clinics and research laboratories, and 13 highly specialized core service facilities. Its scientists and physician/scientists are supported by research trainees, lab technicians, nurses, dietitians, and other support personnel. Pennington Biomedical a state-of-the-art research facility on a 222-acre campus in Baton Rouge.
For more information, see www.pbrc.edu.
Pennington Biomedical Research Center
6400 Perkins Road
Baton Rouge, LA 70808