More than 40 Employees Celebrated at Pennington Biomedical Service Award Luncheon
Jan. 23, 2023
For more information, contact Ernie Ballard, ernie.ballard@pbrc.edu, 225-263-2677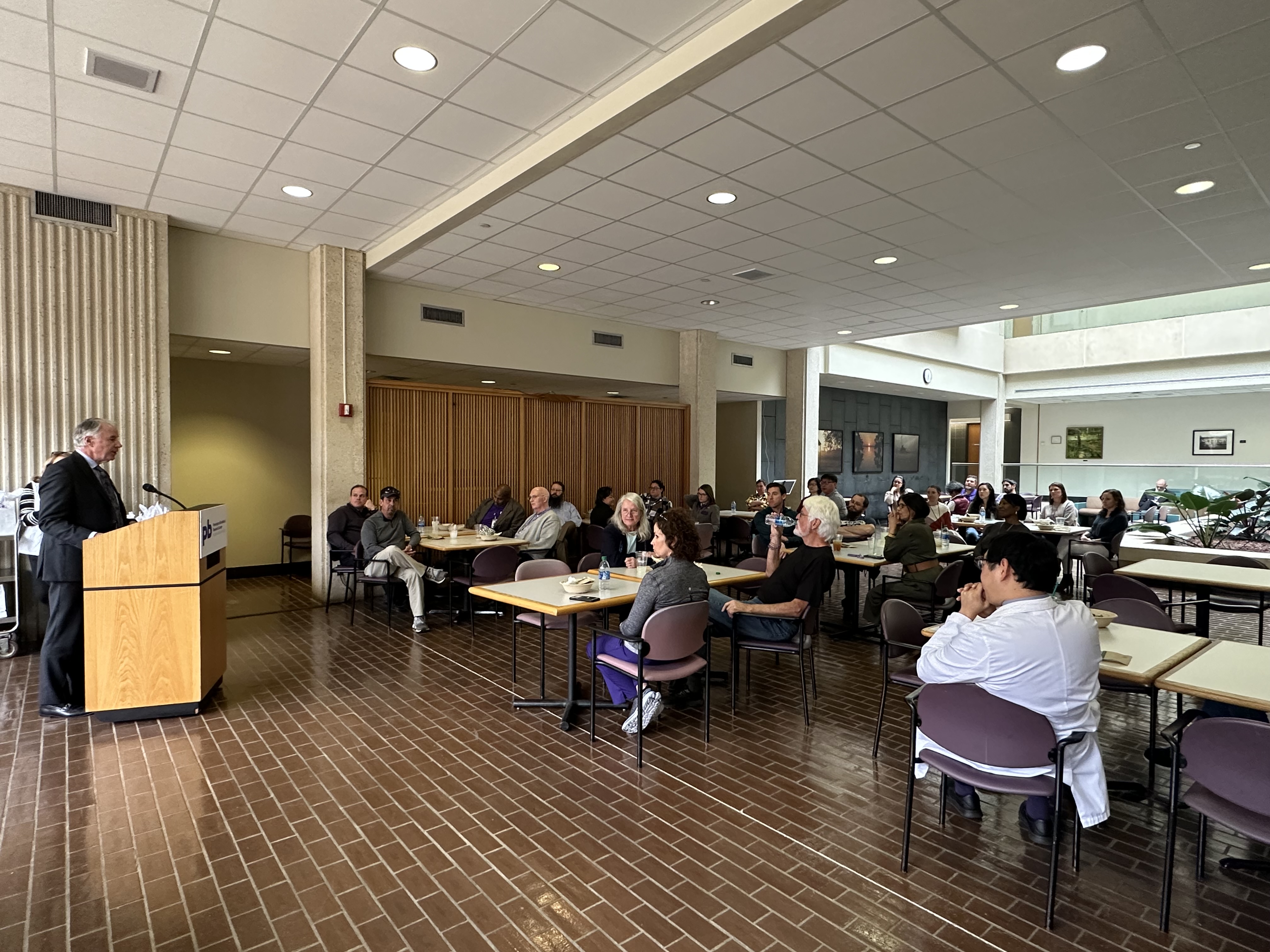 BATON ROUGE – On Friday, Jan. 20, the Pennington Biomedical recognized employees celebrating years of service milestones for their tenure at the center. A total of 44 employees were honored, including two recognized for 30 years of service.
"We are here today to recognize the many contributions you have all made to Pennington over the years and I would like to thank you for what you do for Pennington every day," said Dr. John Kirwan, Executive Director of Pennington Biomedical. "These awards are a recognition of your dedication, longevity, and of course your contribution to our mission of working to discover new ways to improve the health of our state, nation and beyond. On behalf of Pennington, I want you to know that you are thoroughly appreciated. We thank you sincerely for everything you do."
The 2022 service awards recognized the following employees:
30-Year Awardees:
Hans-Rudi Berthoud
Dwayne Lambert
25-Year Awardees:
Scott Bertrand
Eric LeBlanc
Dawn Turner
20-Year Awardees:
Evest Broussard
Lisa Dalfrey
Corby Martin
Aimee Stewart
Tiffany Stewart
15-Year Awardees:
Heather Brady
Ji Suk Chang
Bridget Conner
Claudia Kruger
Sheletta Donatto
Melissa Harris
William Johnson
Claudia Kappen
Peter Katzmarzyk
Emily Mire
Ronald Monce
Kori Murray
John Ruth
Michael Salbaum
Renee Stelzer
Aubrey Windham
10-Year Awardees:
John Apolzan
San Chu
Daniel Hsia
Leigh Lamonica
Michelle Magee
Candice Myers
Candida Rebello
Celeste Waguespack
5-Year Awardees:
Timothy Allerton
Katelyn Atkins
Kimberly Banks
Emily Bordelon
Alison Carville
Mark Fryoux
Floyd Hodoh
Sydney Jones
Dereck Kibodeaux
Kathryn Legett
Phillip Nauta
Chulhong Park
Thaddeus Sechrist
Sara Webb
About the Pennington Biomedical Research Center
The Pennington Biomedical Research Center is at the forefront of medical discovery as it relates to understanding the triggers of obesity, diabetes, cardiovascular disease, cancer and dementia. The Center architected the national "Obecity, USA" awareness and advocacy campaign to help solve the obesity epidemic by 2040. The Center conducts basic, clinical, and population research, and is affiliated with LSU.
The research enterprise at Pennington Biomedical includes over 480 employees within a network of 40 clinics and research laboratories, and 13 highly specialized core service facilities. Its scientists and physician/scientists are supported by research trainees, lab technicians, nurses, dietitians, and other support personnel. Pennington Biomedical a state-of-the-art research facility on a 222-acre campus in Baton Rouge.
For more information, see www.pbrc.edu.
Pennington Biomedical Research Center
6400 Perkins Road
Baton Rouge, LA 70808