inRegister Magazine Celebrates Inspiring Women, including Dr. Heike Muenzberg-Gruening of Pennington Biomedical
Jan. 20, 2023
For more information, contact Ernie Ballard, ernie.ballard@pbrc.edu, 225-263-2677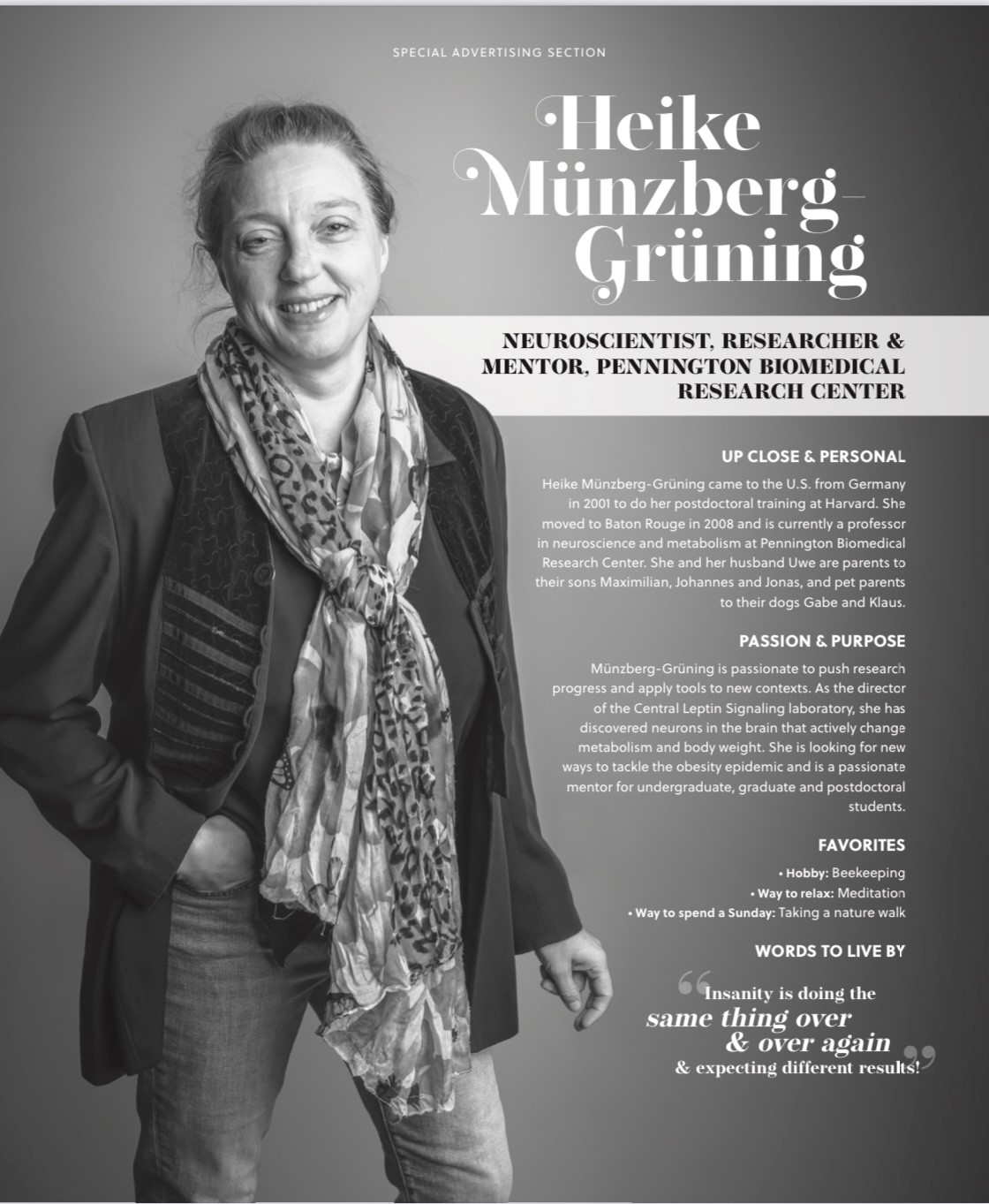 BATON ROUGE – In a special profile section, inRegister magazine celebrated 27 local, inspiring women, including Dr. Heike Muenzberg-Gruening, professor in neuroscience and metabolism at Pennington Biomedical Research Center.
In the profile section, inRegister said, "Every woman has a story to tell … Let's honor the strong and determined women in our community and applaud their accomplishments."
Dr. Muenzberg-Gruening received a Ph.D. in biology from University Hospital Hamburg and University Hospital Heidelberg, Germany, and completed postdoctoral training at Harvard.
inRegister highlighted that as director of the Central Leptin Signaling Laboratory at Pennington Biomedical, Dr. Muenzberg-Gruening has discovered neurons in the brain that actively change metabolism and body weight. She is looking for new ways to tackle the obesity epidemic and is a passionate mentor for undergraduate, graduate and postdoctoral students.
"The research that Dr. Muenzberg-Gruening is conducting at Pennington Biomedical will help us gain a better understanding of how brain and fat tissue communicate, which will be an important step in finding better ways to treat obesity," said Pennington Biomedical Executive Director John Kirwan, Ph.D. "She truly is an inspiration and well deserving on this recognition by inRegister."
For more on the Inspire section of inRegister, visit https://issuu.com/batonrougebusinessreport/docs/inr_jan-inspire_profiles_flipbook.
About the Pennington Biomedical Research Center
The Pennington Biomedical Research Center is at the forefront of medical discovery as it relates to understanding the triggers of obesity, diabetes, cardiovascular disease, cancer and dementia. The Center architected the national "Obecity, USA" awareness and advocacy campaign to help solve the obesity epidemic by 2040. The Center conducts basic, clinical, and population research, and is affiliated with LSU.
The research enterprise at Pennington Biomedical includes over 480 employees within a network of 40 clinics and research laboratories, and 13 highly specialized core service facilities. Its scientists and physician/scientists are supported by research trainees, lab technicians, nurses, dietitians, and other support personnel. Pennington Biomedical a state-of-the-art research facility on a 222-acre campus in Baton Rouge.
For more information, see www.pbrc.edu.
Pennington Biomedical Research Center
6400 Perkins Road
Baton Rouge, LA 70808