SCIENTIFIC SYMPOSIA SERIES
Nutritional Programming and Obesity: State-of-the-Science, Innovation and Future Directions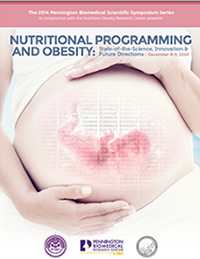 12/8/2014 - 12/9/2014
Co-chairs:
Eric Ravussin, PhD
Associate Executive Director, Clinical Sciences
Boyd Professor
Director Nutrition Obesity Research Center
Endowed Chair, Diabetes and Metabolism
Pennington Biomedical Research Center
Leanne Redman, PhD
Associate Professor, Reproductive Endocrinology & Women's Health Research
Pennington Biomedical Research Center
Moshe Szyf, PhD
Full Professor, Department of Phyarmacology and Therapeutics
McGill University


Program Description:
Background:
Human epidemiological studies and dietary interventions in animal models have suggested that maternal nutritional imbalance and metabolic disturbances during critical time periods of development may have long term health consequences on offspring. It is now necessary to identify and explain the mechanisms inducing these responses. There is growing acceptance of the notion that epigenetic changes associated with chromatin structure and regulation of gene expression provide a basis to contribute to developmental programming and establishment of predispositions to later in life chronic disease. This suggests new possibilities for the prevention and treatment of obesity and related chronic diseases.
Program Description:
The goal of this scientific symposium is to review key mechanisms leading to nutritional programming of obesity and chronic disease. A key goal will be to review and discuss the recent scientific advances in animal models, population‐based cohort studies and human clinical trials of nutritional supplementation during gestation as well as diet and exercise for weight loss and healthy aging. The state-of-the-science for epigenetic-based research will be described with the overarching goal to develop ideas for innovative future research to understand the role of epigenetics in current and
future health and disease.
Obesity (Silver Spring). 2016 May;24(5):1018-26. doi: 10.1002/oby.21487. Epub 2016 Apr 1.
Developmental programming: State-of-the-science and future directions-Summary from a Pennington Biomedical symposium.
Sutton EF1, Gilmore LA1, Dunger DB2, Heijmans BT3, Hivert MF4, Ling C5, Martinez JA6, Ozanne SE7, Simmons RA8, Szyf M9, Waterland RA10, Redman LM1, Ravussin E1.
Objectives:
Increase participant knowledge of nutritional programming of obesity, chronic diseases and aging.

Increase the knowledge of study designs and analytical approaches to conduct epigenetic-based research studies contributing to the programming of obesity and chronic disease.

Understand the role of epigenetics in personalized approaches to disease management.

Produce a peer‐reviewed publication to enhance the knowledge of epigenetic mechanisms contributing to the programming of obesity and related chronic diseases.
TRAINING & EDUCATION