SCIENTIFIC SYMPOSIA SERIES
Adiposity in Children and Adolescents: Correlates and Clinical Consequences of Fat Stored in Specific Body Depots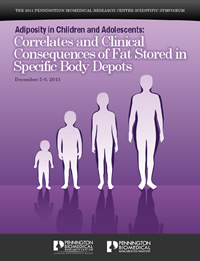 12/5/2011 - 12/6/2011
Co-chairs:
Peter T. Katzmarzyk, Ph.D.
Pennington Biomedical Research Center, Baton Rouge, LA
Wei Shen, M.D.
New York Obesity Nutrition Research Center, St. Luke's – Roosevelt Hospital Center
Program Description:
Pediatr Obes. 2012 Oct;7(5):e42-61. doi: 10.1111/j.2047-6310.2012.00073.x. Epub 2012 Aug 21.
Adiposity in children and adolescents: correlates and clinical consequences of fat stored in specific body depots.
Katzmarzyk PT1, Shen W, Baxter-Jones A, Bell JD, Butte NF, Demerath EW, Gilsanz V, Goran MI, Hirschler V, Hu HH, Maffeis C, Malina RM, Müller MJ, Pietrobelli A, Wells JC.

Objectives
To integrate the latest published and unpublished findings on the laboratory and
clinical assessment of depot-specific adiposity in children and adolescents.

To understand the roles that sex and ethnicity play in explaining variation in depotspecific
adiposity and related health outcomes across the pediatric age range.

To identify opportunities for incorporating new markers of abdominal obesity into
clinical practice guidelines for obesity in children and adolescents.
TRAINING & EDUCATION