SCIENTIFIC SYMPOSIA SERIES
Bariatric Surgery: Do the Mechanisms Hold the Key for Novel Therapies?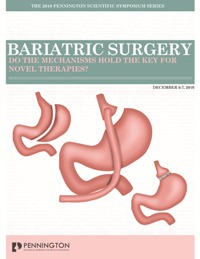 12/6/2010 - 12/7/2010
Co-chairs:
Hans Rudolf-Berthoud, PhD, Professor, Neurobiology & Nutrition, PBRC
Eric Ravussin, PhD, Professor, Skeletal Muscle Physiology, Pennington Biomedical Research Center
Philip Schauer, MD, Professor, Endocrinology, Albert Einstein College of Medicine
Lee Kaplan, MD, PhD, Director, Weight Center, Massachusetts General Hospital
Program Description:
Symposium Schedule (pdf)

Bariatric surgery is currently the most effective treatment for morbid obesity with sustained weight loss far beyond traditional behavioral intervention and drug therapies. In addition, bariatric surgery can reverse and prevent type-2 diabetes and many other obesity-related pathologies and it can lead to improved quality of life and even extend lifespan. Yet the physiological mechanisms underlying the beneficial as well as adverse effects ofbariatric surgeries are not well understood.
This symposium will critically evaluate current knowledge regarding potential mechanisms of bariatric surgeries in weight loss and diabetes resolution. Top experts in obesity surgery, endocrinology, gastroenterology, gut-brain communication, nutritional neuroscience, and behavioral medicine will summarize recently published work and the latest unpublished observations from both clinical studies and research in animal models.
Obes Rev. 2011 Nov;12(11):984-94. doi: 10.1111/j.1467-789X.2011.00902.x. Epub 2011 Jul 6.
Could the mechanisms of bariatric surgery hold the key for novel therapies? report from a Pennington Scientific Symposium.
Tam CS1, Berthoud HR, Bueter M, Chakravarthy MV, Geliebter A, Hajnal A, Holst J, Kaplan L, Pories W, Raybould H, Seeley R, Strader A, Ravussin E.
Objectives
To review and discuss the latest findings on bariatric surgery-induced changes in molecular and cellular signaling in the gut and associated peripheral organs.
To critically assess the role and signaling pathways ofneural and humoral mediators of gutbrain communication.
To summarize the impact ofthese surgery-induced changes on key brain systems involved in energy and glucose homeostasis as well as in reward, cognitive, and emotional behaviors.
To identify opportunities for development ofnove1 drug, surgical, device-based, and behavioral therapies.
TRAINING & EDUCATION