SCIENTIFIC SYMPOSIA SERIES
The 2007 John S. McIlhenney Series of the Pennington Scientific Symposium: Neuro-Immune Signaling and Inflamation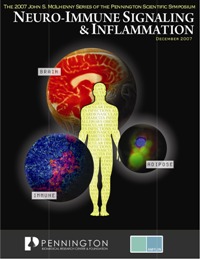 12/2/2007 - 12/5/2007
Co-chairs:
Joost J. Oppenheim, M.D., Chief, Laboratory of Molecular Immuno-Regulation, National Cancer Institute, National Institutes of Health
Janko Nikolic-Zugic, Ph.D., Professor, Department of Molecular Microbiology and Immunology, Oregon Health & Science University
Vishwa Deep Dixit, Ph.D., Assistant Professor, Laboratory of Neuroendocrine-Immunology, Pennington Biomedical Research Center, Louisiana State University System
Program Description:
The goal of this symposium is to discuss key findings and integrate scientific knowledge from the areas of Immunology, Nutrition and Neuroscience that sheds light on regulation and prevention of inflammatory and age-related disorders.
The survival and evolution of the human race over thousands of years is intimately linked with the drive to find and accumulate food as well as its ability to fight microbial infections. The discrepancy between the environment in which hunger and the immune system evolved in prehistoric times is vastly different from the food-replete and relatively clean, low pathogen environment of human existence in the developed world. Consequently, there has been an alarming rise in obesity, autoimmune disorders and allergies suggesting that our body may have become victim of its own evolutionary success. Dialogue between the immune and neuroendocrine signal pathways plays an integral role in the maintenance of homeostasis and regulation of immune and inflammatory responses. It has been hypothesized that the immune system also communicates to CNS in a sensory capacity, whereby it detects and eliminates the presence of pathogens and antigens arising out of malignant transformations. The successes of immune­surveillance pathways are closely tied to the survival of the host and hence the systemic adaptation to various ensuing challenges requires a multi­system integration. This is an emerging area of investigation that holds promise for better understanding of the basic cellular and molecular mechanisms of inflammatory disorders, aging, obesity and cancer. The multidisciplinary nature of this area necessitates a meeting that provides a platform and a single roof under which leading experts in immunology, nutrition, neuroscience and cell signaling can exchange ideas to facilitate the emergence of novel concepts.
Objectives:
1. To integrate the emerging evidence of regulation of immune and inflammatory responses by metabolic and neural pathways.
2. To understand the impact of caloric intake on homeostatic mechanisms regulating immune responses with emphasis on age-related diseases.
3. To emphasize novel signaling pathways driving mind-body dialogue to develop preventive approaches against susceptibility to infections and auto-immune disorders.
Background:
The Scientific Symposia Series was established in 2002 to attract world-renowned scientists to the Pennington Biomedical Research Center , to allow them the opportunity to interact and synthesize knowledge in selected areas of nutrition and preventive medicine research.

Scientific Symposia are coordinated by the Division of Education at the Pennington Biomedical Research Center in conjunction with funding provided by the Pennington Foundation and other private resources. The Pennington Biomedical Research Foundation provides Pennington Biomedical Research Center with vital funding for this education series as well as for nutrition-based research that aims to curb the epidemic of obesity and prevent premature death from chronic diseases.
TRAINING & EDUCATION