SCIENTIFIC SYMPOSIA SERIES
Adaptive Thermogenesis & Human Obesity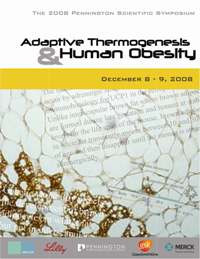 12/7/2008 - 12/9/2008
Co-chairs:
Eric Ravussin, Ph.D., Professor, Human Physiology, Pennington Biomedical Research Center
Jean-Pierre Flatt, M.D., Department of Biochemistry and Molecular Biology, University of Massachusetts Medical School, Worcester, Massachusetts
Claude Bouchard, Ph.D., Professor, Human Genetics, Pennington Biomedical Research Center
Program Description:
Adaptive thermogenesis describes nutrition, exercise, cold, or drug-induced changes in resting energy expenditure that exceed changes in energy expenditure elicited by the thermic effect of food, the energy cost of exercise, adaptation to cold, or changes in the size of the body's organs
Among the questions that were addressed at the Symposium, the following were emphasized:
Is there adaptive thermogenesis in humans?
What is the magnitude of human adaptive thermogenesis?
What are the causes and mechanisms of adaptive thermogenesis?
Can adaptive thermogenesis be enhanced?
Is adaptive thermogenesis of clinical significance for human obesity?
Background:
The Scientific Symposia Series was established in 2002 to attract world-renowned scientists to the Pennington Biomedical Research Center , to allow them the opportunity to interact and synthesize knowledge in selected areas of nutrition and preventive medicine research.

Scientific Symposia are coordinated by the Division of Education at the Pennington Biomedical Research Center in conjunction with funding provided by the Pennington Foundation and other private resources. The Pennington Biomedical Research Foundation provides Pennington Biomedical Research Center with vital funding for this education series as well as for nutrition-based research that aims to curb the epidemic of obesity and prevent premature death from chronic diseases.
TRAINING & EDUCATION