MAKING AN IMPACT
U.S. News & World Report's Best Diets for 2019 Includes the DASH Diet from Pennington Biomedical & Partners
DASH Diet Ranks Top 5 in Multiple Categories, Including Easiest to Follow, Best for Diabetes
Released: Wednesday, January 02, 2019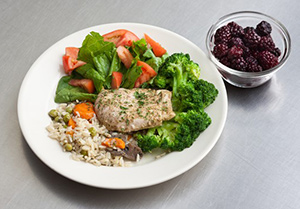 Baton Rouge, Louisiana -- As many Americans start the New Year resolving to eat healthier, U.S. News & World Report today released its annual assessment of the year's best diets. The DASH Diet, developed in part by LSU Pennington Biomedical Research Center dietitians, ranked as a top diet in multiple categories, including:
Best Diets Overall: (No. 2)
Best Diets for Diabetes: (No. 2)
Best Diets for Healthy Eating (No. 2)
Easiest Diets to Follow (No. 5)
Best Heart-Healthy Diets (No. 3)
Pennington Biomedical's Catherine Champagne, PhD, worked as a member of the DASH Diet Collaborative Research Group that included members from Brigham and Women's Hospital; Duke Hypertension Center and the Sarah W. Stedman Nutrition and Metabolism Center; and Johns Hopkins Medical Institutions.
Click Here for Free Dash Diet Eating Plan
"There are a lot of advantages to the DASH Diet. It lowers blood pressure naturally. It's heart-healthy. It's one of the best diets for diabetes and healthy eating," said Dr. Champagne, professor and director of Pennington Biomedical Dietary Assessment and Nutrition Counseling Lab.
The DASH diet has consistently ranked as one of U.S. News & World Report's best over the past nine years.
Others agree. When the U.S. Department of Agriculture drafted its most recent Dietary Guidelines for Americans, the agency patterned those recommendations after the DASH Diet, Champagne said.
The DASH diet encourages eating foods low in sodium, saturated and total fat, and cholesterol and high in potassium, calcium, fiber, magnesium and protein. Dr. Champagne, who hails from south Louisiana, points out that "You can even use Cajun seasonings instead of salt, if you like. There are many that taste good and are salt-free."
On a daily basis, the diet includes 6-8 servings of whole grains, 4-5 servings of vegetables, 4-5 servings of fruits, 2-3 servings of fat-free or low-fat dairy products, and 6 ounces or less of lean meats, poultry and fish. Those following the diet must also limit fatty meats, full-dairy products, tropical oils, sweets and sugar-sweetened beverages.
To calculate the rankings, U.S. News convened an expert panel of the country's top nutritionists, dietary consultants and physicians specializing in diabetes, heart health and weight loss. Through an in-depth survey, each panelist scored the 41 diets in seven areas, including ease of compliance, likelihood of losing significant weight in the short and long term, and effectiveness against cardiovascular disease and diabetes.
"While the fundamentals of healthy eating remain constant year to year, new research and insights help continuously evolve best practices over time," said expert panelist Dr. David Katz, director of the Yale University Prevention Research Center, and author of "The Truth about Food". "The U.S. News Best Diets rankings rely on diverse expertise to respond to what's new and diverting in nutrition, while highlighting healthy eating principles that are time-honored, evidence-based, and reliable."
For further details on how the rankings were calculated, see the methodology.
The National Institutes of Health's National Heart, Lung and Blood Institute funded the original DASH Diet research.
---
For more information on how you can support this and other projects at LSU's Pennington Biomedical Research Center, visit
www.pbrf.org
.
NEWS & MEDIA