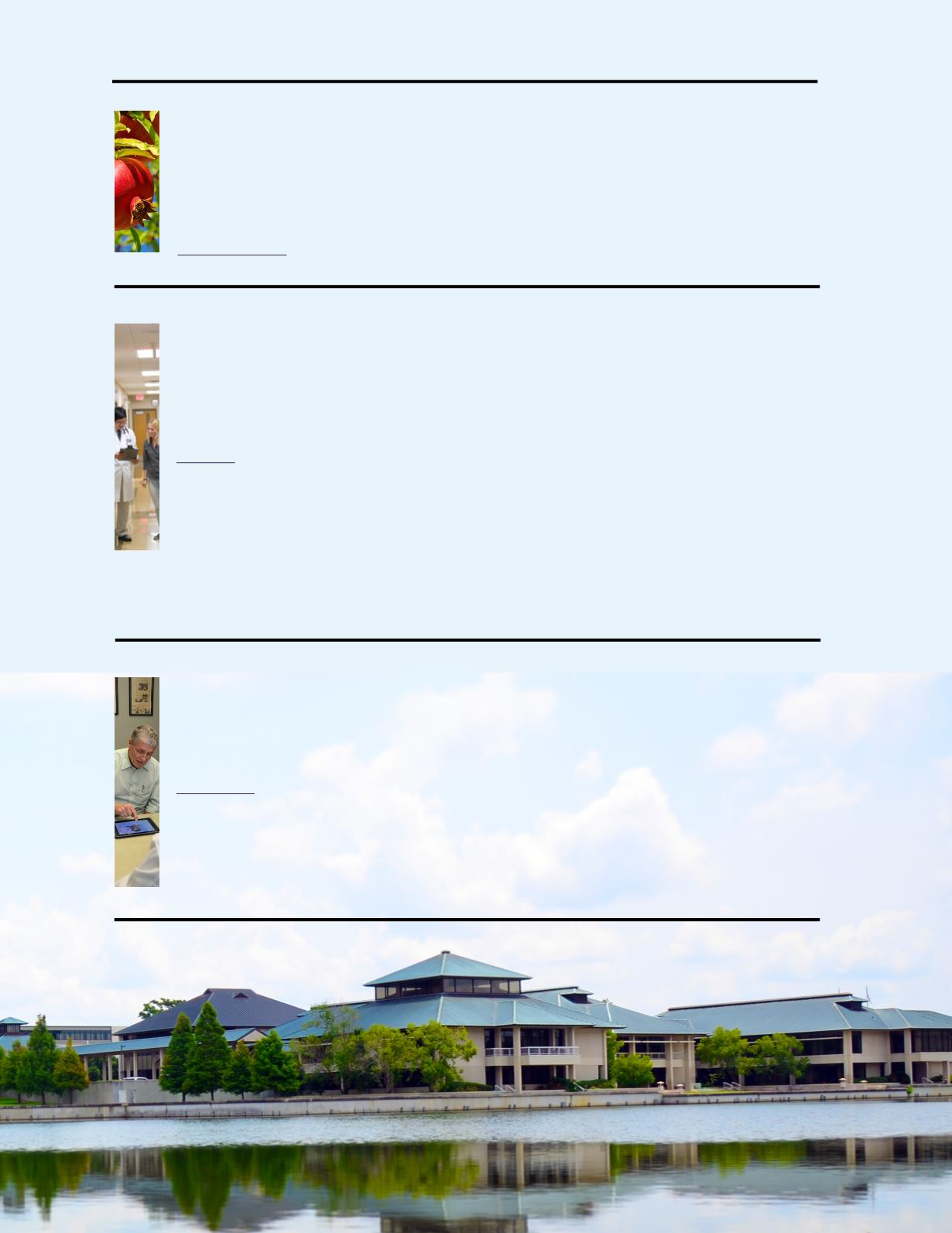 Pennington Biomedical, in collaboration with Rutgers University, has been home to the BRC since
2005. It is one of only three NIH-funded botanical research centers in the country and the only
one focused primarily on obesity and diabetes. Pennington Biomedical's expertise in metabolic
disease research is teamed with
Rutgers University's plant science
expertise on this initiative.
The center's third 5-year renewal was awarded in 2015 for continued research and innovation
to help combat diabetes, insulin resistance, metabolic syndrome, obesity and heart disease.
BOTANICAL
DIETARY
SUPPLEMENTS
RESEARCH
CENTER
The LA CaTS Center is working to transform the clinical and translational research efforts of
our region away from the status quo, where institutions operate in isolation to pursue their
institutional missions, and toward a cohesive, mutually supportive enterprise for clinical and
translational research. Funded through the NIH IDeA-CTR, the center represents a unified and
comprehensive approach targeting the theme of "prevention, care and research of chronic
diseases in the underserved population." The center is comprised of three primary collaborating
institutions, including Pennington Biomedical, LSU Health Sciences Center in New Orleans,
and Tulane University School of Medicine in New Orleans – and also includes four research
partners: LSU Health Sciences Center in Shreveport, Xavier University of Louisiana in New
Orleans, Research Institute for Children at Children's Hospital in New Orleans and Louisiana
State University in Baton Rouge. Another five-year grant renewal is being submitted in 2016.
LOUISIANA
CLINICAL &
TRANSLATIONAL
SCIENCE
CENTER
The IDRP is working to improve the quality of life for individuals in Louisiana through world class
research programs focused on dementia prevention, providing local access to the latest clinical
trials for the treatment of dementia, and providing educational opportunities for individuals/
families affected by dementia. The IDRP brings together multiple scientific disciplines within
the clinical research arena in order to find novel ways of preventing, detecting, and managing
dementia in the elderly. The institute has enrolled more than 2,000 participants in its clinical trials
and is establishing itself as a world leader in understanding the interactions between changes in
mobility and the development of dementia. The institute was designated an Alzheimer's Disease
Cooperative Study (ADCS) site in 2014, making Pennington Biomedical the only ADCS site in the
tri-state area of Arkansas, Louisiana and Mississippi.
INSTITUTE FOR
DEMENTIA
RESEARCH &
PREVENTION
botanical.pbrc.edu
lacats.org
idrp.pbrc.edu
$28M
New extramural grants to Louisiana institutions via LA CaTS infrastructure
255+
Scientific journal publications authored by investigators via LA CaTS resources