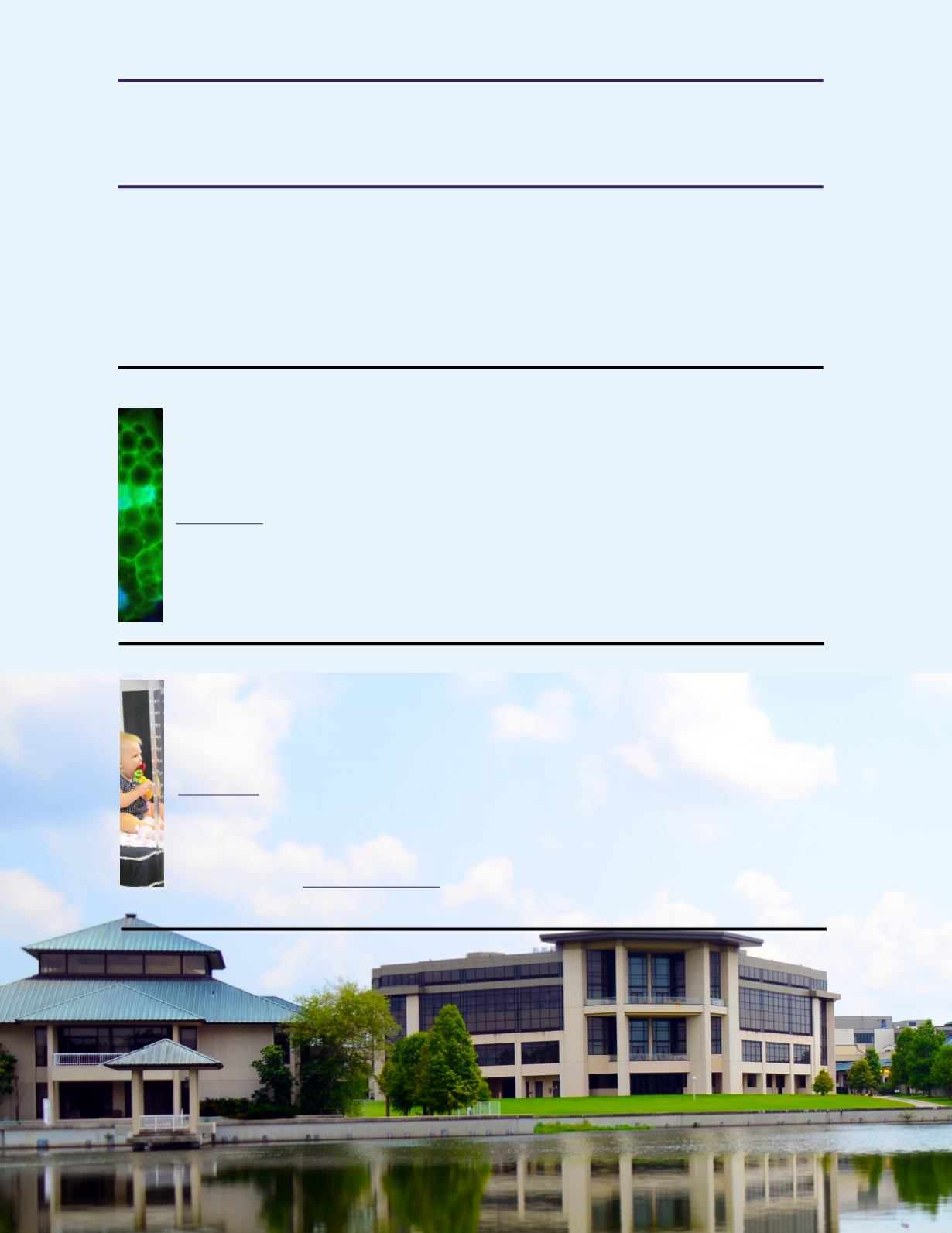 DISTINCTION & ACHIEVEMENT
The COBRE provides support for outstanding junior faculty at Pennington Biomedical as they transition
from training to independence and establish their own extramurally funded research programs.
The center works to create a rich academic and technical environment in which to train the next
generation of scientists that will power the discovery process in the areas of obesity, diabetes and
metabolic disease. Initially established in 2006 through a five-year grant award from the National
Center for Research Resources at the NIH, Phase II was renewed in 2011. The COBRE was renewed
again in 2016 and transitioned from a Phase II to Phase III center.
CENTER OF
BIOMEDICAL
RESEARCH
EXCELLENCE
The NORC was first funded by the NIH National Institute of Diabetes and Digestive and Kidney Diseases
(NIDDK) in 2006. The center's research has traditionally focused on collaborative and multi-disciplinary
opportunities aimed at generating new research ideas and moving the best of those ideas from the
lab bench to the patient's bedside. NORC research includes the investigation into signaling pathways
within pancreatic beta cells and inflammation that may lead to diabetes, a study of adipocytes in
mammary glands that play a role in breastfeeding and how specific adipocytes affect lactation, milk
composition and the nutritional status of nursing babies, and targeted pediatric research studies
aimed at increasing physical activity, improving overall health and engaging community participation.
NORC also funds pilot research projects at academic research institutions across Louisiana. Another
five-year grant renewal
was received in 2016.
NUTRITION
OBESITY
RESEARCH
CENTER
cobre.pbrc.edu
norc.pbrc.edu
11
COBRE Graduates
220+
Research papers by PIs using COBRE supported facilities
80+
Research papers published by graduates with COBRE support
Pennington Biomedical is home to outstanding collaborative centers and institutes. These entities distinguish the center and provide fertile
research and mentoring opportunities for scientists at Pennington Biomedical, across the state, and around the country. Being home to
one NIH-funded research center is a prestigious mark for any academic institution – Pennington Biomedical is home to FOUR, plus one
university-designated research center of excellence. Leadership of these centers is a true mark of distinction for our center and our
researchers.