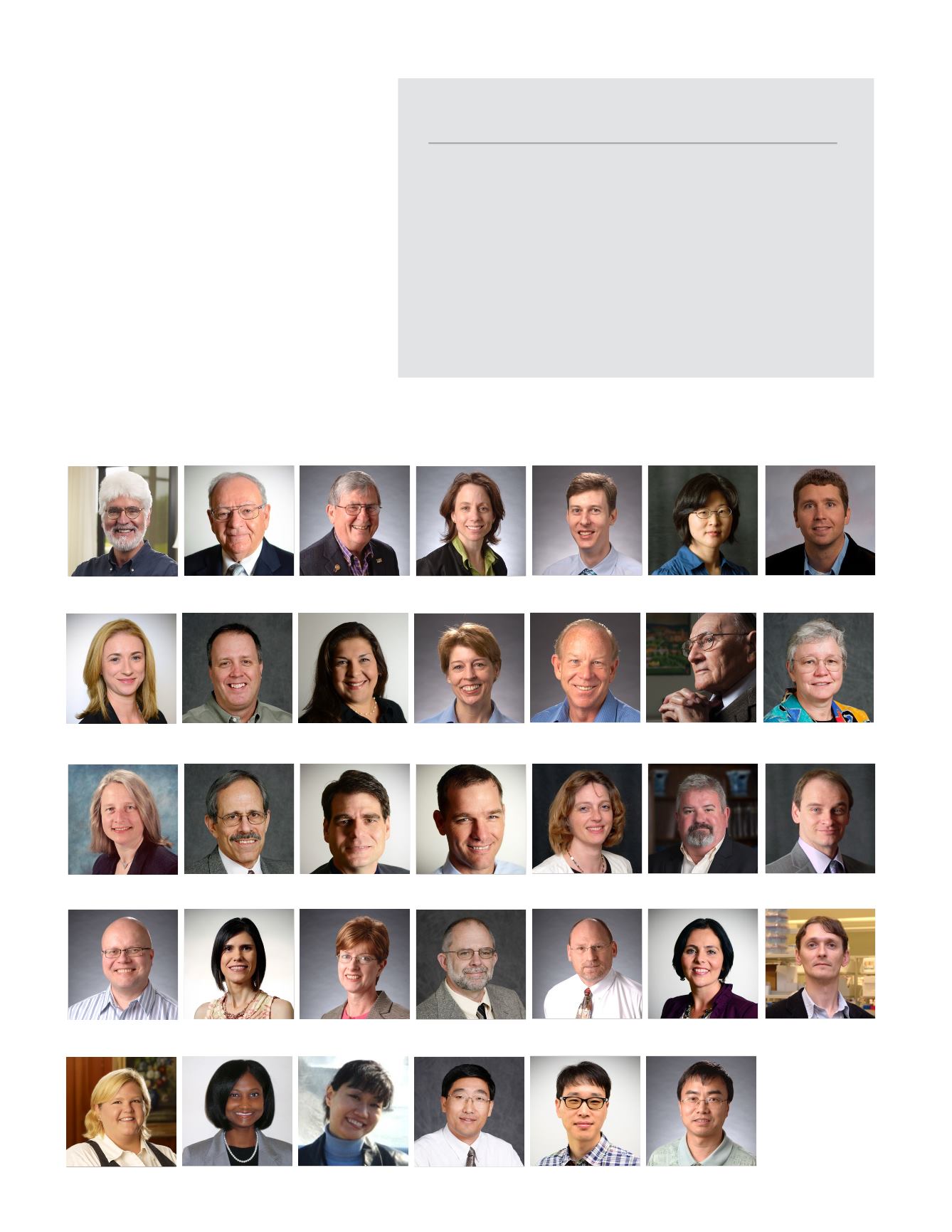 | 2014-2015 Scientific Report
10
Annadora Bruce-Keller, PhD
David Burk, PhD
Ji Suk Chang, PhD
Elizabeth Floyd, PhD
Thomas Gettys, PhD
William Hansel, PhD
Christopher Morrison, PhD
Heike Muenzberg-Gruening,
PhD
Randall Mynatt, PhD
Richard Rogers, PhD
Michael Salbaum, PhD
Kem Singletary, DVM
Jianping Ye, MD
Sangho Yu, PhD
Jingying Zhang, PhD
Hans-Rudolf Berthoud, PhD
Claude Bouchard, PhD
Doug Braymer, PhD
Susan Collier, PhD
Kenneth Eilertsen, PhD
Carrie Elks, PhD, RD
Claudia Kappen, PhD
Abba Kastin, MD
David McDougal, PhD
Tuomo Rankinen, PhD
Allison Richard, PhD
Brenda Richards (Smith), PhD
Jacqueline Stephens, PhD
April Stull, PhD, RD
Bolormaa Vandanmagsar,
PhD
Jason Collier, PhD
Gerlinda Hermann, PhD
Robert Noland, PhD
Krisztian Stadler, PhD
well as inflammation and disease progression. Our
research, and that of colleagues at other institutions,
has shown that modern high fat diets cause robust
and long-lasting disruption to the gut microbiome,
which may trigger profound metabolic and neurologic
damage. Conversely, healthy lifestyle choices like
dietary botanicals and exercise might support a healthy
microbiome and prevent the effects of unhealthy diets.
Future studies will focus on learning how to harness
the intestinal microbiome to prevent the detrimental
effects of modern unhealthy diets while amplifying the
beneficial effects of botanical and exercise interventions
to synergistically increase overall health.
BASIC SCIENCE FACULTY
Our basic scientists are collaborating on
research projects with colleagues on other LSU campuses
and with institutions and companies around the world to help
develop an understanding of the biological basis for chronic
diseases like obesity and diabetes.
180+
COLLABORATION = PROGRESS